A great and entertaining event awaits kids and grown-ups and all gamers to the Palais des Festivals et des Congrès of Cannes. The International Games Festival will be taking place on the 21st to the 23rd of February 2020. Follow the program, and HSE Cabs French Rivera will accompany you!
For all passionate gamers or the simply curious, you are invited to discover a world of board games at the heart of the biggest French speaking gaming convention in the Palais des Festivals et des Congrès of Cannes. And it is free!
A 2020 edition that is worth it
During the 2020 edition of this gaming festival in Cannes, thanks to the newest trends, everyone will be able to learn about the world of games, try and discover thousands of board games in open access, try the best "Golden Ace" award winning games, meet creators and editors in workshops, demonstrations and tournaments:
– Traditional games and classics.
– Modern board games.
– Video games and VR.
– Escape games.
– Simulation games (role-playing, life-size gaming, historical wargames, fantasy).
– Collectible cards
– Building games, crafts and toys.
A great opportunity to embark on an intergenerational voyage. Prepare to share strong emotions as you discover the wealth of entertainment creation over 30,000m2 of floor area at the heart of the Palais des Festivals of Cannes!
Discover Days of Wonder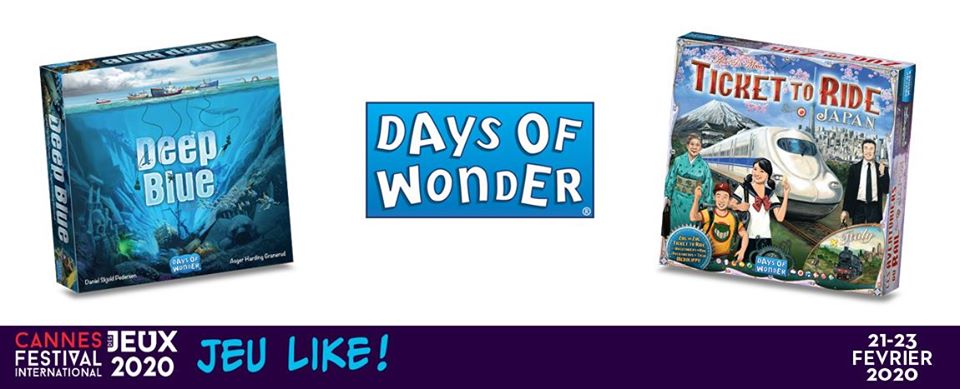 A number of stalls from the big actors of the industry will be present, including:
Like every other year at the Cannes festival, the Days of Wonder team will be there to present you their latest games.
– Deep Blue is a family risk-taking game in which players explore deep sea wrecks and attempt to bring back the ship's wealth. Recruit the best divers, navigators and archaeologists who will increase your earnings and protect you from danger. Cooperate with your opponents to bring back bigger treasures and push them towards errors to be the sole victor.
– Everyone knows Ticket to Ride! The Alan R Moon bestseller is coming back with a new Japan and Italy extension. It keeps the successful mechanics of the series and invites you to travel on new maps with a few new mechanisms.
Julien Delval, the illustrator of Ticket to Ride will be here for autograph sessions from Friday to Sunday, from 11am to 12am and from 3pm to 4pm.
You can also win a selection of Ticket to Ride games by finding 3 golden trains hidden throughout the convention.
Find us at stall 18.02!
TIKI Editions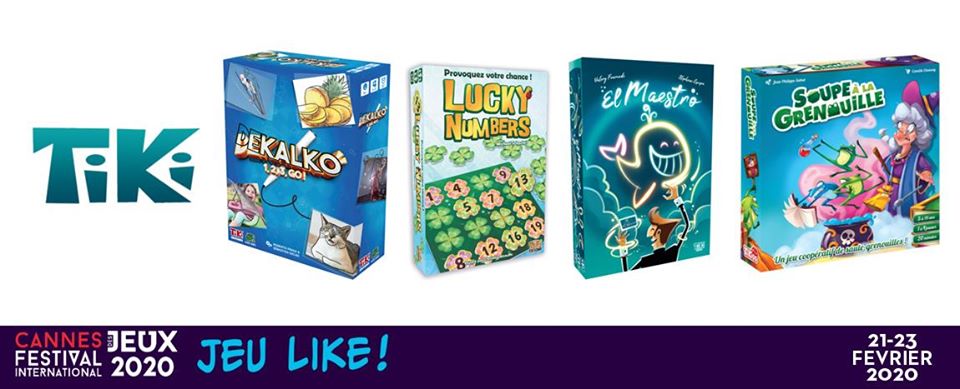 On the TIKI Editions stall, you can discover (if you don't already know them) two games published in 2019: El Maestro, a very fun air-drawing game, and the co-operative reflex game Soupe à la Grenouille.
You can also try the exclusive great new games to be released in 2020:
– Dekalko is an ambiance game by Roberto Fraga and Sébastien Decad.
You must trace a photo you receive as quickly as possible to score points. But to do this, another player will need to discover what has been drawn!
The official release date is early May.
– Lucky Numbers is a re-edition of a game by Michael Schacht, illustrated by Christine Alcouffe.
Each player has a 4×4 grid in front of them.
To win, you must be the first to fill your grid.
To do this, you must have your chips placed in ascending order in rows and columns!
Find us on stand 05.05!
Follow the schedule
In order to best organise the 3 days of the festival for this 2020 edition, a schedule is available below so that you cannot miss event during the festival: tournaments, conferences, autographs, shows…
The schedule: https://www.festivaldesjeux-cannes.com/fr/MainScheduling/scheduling/all
Book today via our app your travel with HSB Cabs Côte D'Azur Cannes and all your transport needs over the Game Festival period. A great opportunity to not miss any day!